Subtitle: "140 Characters is No Excuse".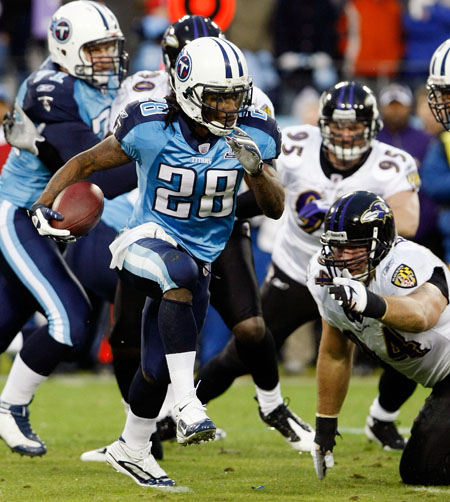 Meet Chris Johnson, the talented (though not quite as much as he thinks) 2nd year running back for the Tennessee Titans. Like many athletes, Johnson has taken to Twitter to communicate with his fans. And like many athletes, Johnson has put on display that college "education" that only star collegiate athletes leave school with.
Early today, Johnson posted this description of an incident where he and a friend were pulled over for suspicion of drunk driving:
Me and @kennyturner is pulled over they think we drunk be we aint drink nothing my dawg ace the test walked the line touched hisnose theymad
Pro Football Talk posted a story about the tweet. Johnson didn't like their characterization of the incident as a "near miss" for their infamous "Days Without An Arrest" counter. Johnson fired back:
@profootballtalk hey stop postinglies about me I didn'teven get close to goingto jail all I had was a red bull so let thepolice do their job
A random Twitter user, RWJ19, posted a tweet to Johnson that read, "@ChrisJohnson28 They had a reason to pull you over. Therefor grow up. Don't let all that money go to your head!".
Johncon, with the kind of class that only Titan players ever achieve, could not let the comment go unanswered:
@RWJ19 u don't let ur pocket change go to ur head
Congratulations, Chris Johnson. You are the first entry in my Twitter Hall of Shame. You may ultimately be the only entry, as you alone made me think of the idea.